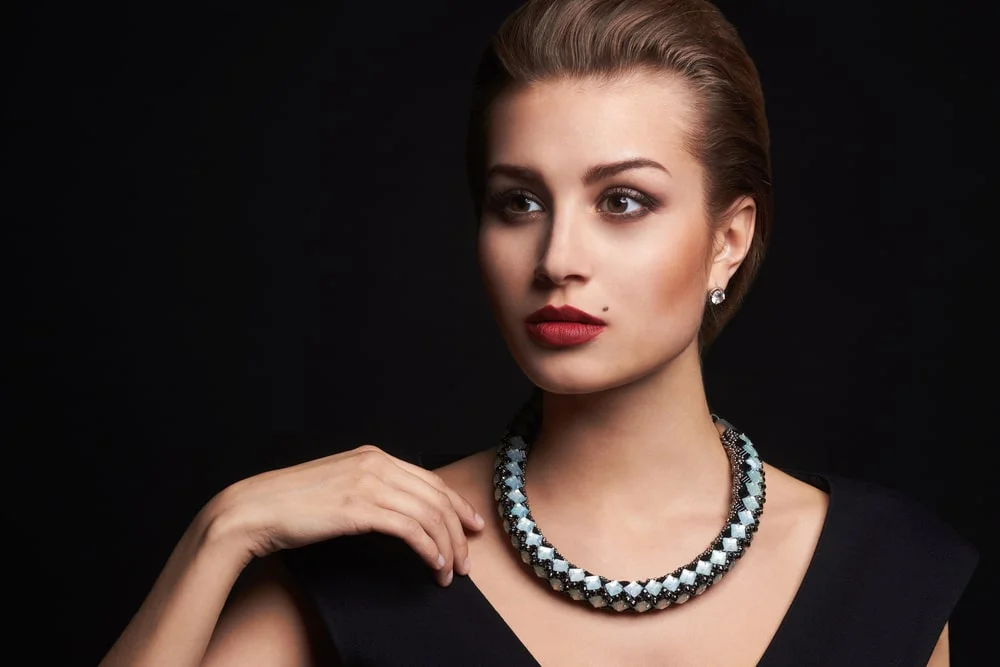 SNAKE JEWELLERY
Snake Jewelry: elegant sets symbolizing attachment and power
A highly symbolic animal in the world of jewelry, the snake can be found in all styles of jewelry sets. Snake jewelry is as rich in meaning as it is in design, whether in the form of a ring, necklace, bracelet or earrings.
The Snake Ring to represent love
A Snake Ring ? This is an exceptional piece of jewelry that can be worn on a daily basis as well as on special occasions. A true reference in the world of snake jewelry is Queen Victoria's snake ring, an iconic engagement ring embodying the eternal love that her beloved Prince Albert showed her.
Today, snake rings take on a spiral shape, a more chic look with a snake's head set with gemstones, or a more sensual look with a ripple. The Ouroboros ring, the snake that bites its own tail, remains a timeless piece, especially when chosen as an engagement ring. Usually made of solid gold and sterling silver, snake rings can also be adorned with precious stones, semi-precious stones or even gemstones, to become even more sublime. For men, the signet ring with the effigy of this reptile remains a timeless model symbolizing power and power.
For women and men, snake rings come in a wide range of styles, which can be chosen according to their various meanings.
Snake necklace to show more character
Whether you appreciate minimalist and elegant jewelry or the most sublime and refined snake jewelry, the Snake Necklace will be an excellent choice of jewelry to enhance any outfit. The serpentine shape on a long necklace or choker is also the embodiment of power and sensuality.
Fascinating, this reptile subjugates by presenting itself in a vast range of necklaces, with models as well thought for men as for women. In mesh necklaces, such as a semi-rigid mesh necklace chain for women, it undeniably adorns the neckline, no matter what your look. Designed in a men's necklace design, the snake materializes in a silver or stainless steel pendant. It can be wrapped around a solid silver cross or adorned with a pearl or gemstone, such as onyx, to embody power and virility.
In yellow gold, white gold, rose gold, white gold, sterling silver or rhodium-plated, and even in gold-plated brass or stainless steel, the snake necklace is available in all materials.
The snake bracelet to adorn the wrist in a more raw and/or elegant style
A great classic and timeless, the Snake Bracelet is both a symbolic and stylish jewel. Available in different models for men and women, it represents an ornament that we keep for a lifetime. Indeed, the materials used in their design are known for their strength and durability. A rhodium-plated silver bracelet does not tarnish over time, as the rhodium protects the silver by preserving its original brilliance. Gold, whether yellow gold, white gold or rose gold, remains a noble and resistant material that can be easily worked to give its different styles on a snake bracelet.
As a band bracelet with a beautiful pearl or gemstone in the shape of a pear or round or oval on the wrist of a woman, this ornament brings the chic touch to any outfit. There are also models in snake mesh or in serpentine curves, like a cuff. They are perfect to accompany a woman on a daily basis. The men's bracelet with a snake pattern is more in gourmette mesh, a gold or silver bracelet that can also be set with fine and precious stones, such as a beautiful blue topaz.
The beautiful Snake Earrings
Specially designed in a more feminine design, the Snake Earrings also come in different styles and in a wide choice of shapes. Moreover, they come in all types of earrings available on the market. That's right! Whether you are looking for gold snake earrings or silver snake earrings, they can come in hoop earrings, dangling earrings, sleeper earrings and stud earrings, among others.
The snake being a reptile that can take various shapes, circular, wavy or spiral, it allows jewelers to better work their creativity. Thus, just as you can find asymmetrical earrings in gold or silver plated, you can also find geometric models as well as earrings with a round shape and a pressure clasp. Yellow gold dangling earrings representing a wavy snake and set with a zircon crystal will be a perfect model for the chic touch of your look.
Satisfaction Guaranteed
100% Secure Payment
Fast Customer Service
Jewelry and accessories carefully selected from the best Design.
We use SSL encryption for secure payments.
Need help? We are at your service from Monday to Saturday